Welcome to the Fallout Gravel Pit Wikia
Fallout Gravel Pit Wiki is a sister spinoff wiki to the Elder Scrolls Sandbox Wiki, founded by its members.
Though there are dozens of Sandbox wikis in relation to Fallout, we never truly felt at home at any of them. Some of them are either inactive or have a layout that doesn't quite suit us. We wish to bring the same feel of the Tes Sandbox Wiki to the many Wastelands across the Fallout Universe.
Create character pages, write stories, create your own imaginary locations, events and factions as well as anything else that your mind can conjure. If you can imagine it and describe it well enough, it can exist.
Though we aren't too rule oriented we do stick tightly to the Wikia guidelines. That means no pornographic content or anything that breaks US law.
Fallout: Prophecy (Part 3)
created by The Retroriffic Man 16 minutes ago

| | |
| --- | --- |
| | "I am wrong one to ask.  Issaquah, very isolated.  But that I have heard of Crimson King says much, and from what I have heard, noth...  |
| | |

Brothers in Binds XIII
created by Eilonwyn 2 hours ago

| | |
| --- | --- |
| | The shot rang out, across the landscape, startling the dog and causing it to run off, needless to say... she missed.  |
| | |

Kheiro
edited by SkyrimsShillelagh 2 days ago
0
Fallout Gravel Pit Wikia
Join the Chat>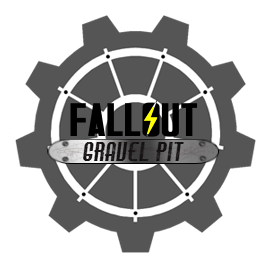 Ad blocker interference detected!
Wikia is a free-to-use site that makes money from advertising. We have a modified experience for viewers using ad blockers

Wikia is not accessible if you've made further modifications. Remove the custom ad blocker rule(s) and the page will load as expected.